This sensor is powered with a mobile power bank and uploads its measurements through Bluetooth on your phone. You can move it around and measure in multiple locations. The sensor is based on PSoC (Programmable System-on-Chip) and costs ca. 50 EUR.
A printable version of this tutorial is available.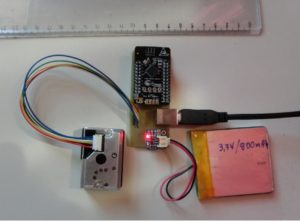 what you need
Make sure you have the following materials and tools available. We here provide links to online retailers, including Aliexpress. Alternatively, visit your local electronics supplier.
Tools
Programming tool: CY8CKIT-059 (12 EUR)
Soldering iron and soldering tin (from ca. 20 EUR)
Windows computer
Smart phone
If you need soldering instructions, check out this tutorial: Introduction to soldering.
Break off the programming tool
Solder a 5-pin header to the programming tool.
Use two M/M jumper wires to solder the USB board to the PSoC module
Connect the sensor with three M/F jumper wires as shown:
Sensor 5V to PSoC VDD
Sensor GND to PSoC GND
Sensor TXD to PSoC 1.4
Connect the programming tool to the PSoC and a computer. The location is marked as PROG on the board.
Select the device and click 'Program'.
Disconnect and power the device using the power bank.
Measuring air quality
Install the hackAIR app to your phone: http://www.hackair.eu/downloads
Login or create an account, then go to Profile > Sensors > Add a new sensor.
Give your sensor a name, add a location and set the sensor type to 'hackAIR mobile'. Save.
Select the menu in the top left corner and go to 'Send hackAIR mobile measurements'. You might be prompted to switch on Bluetooth.
Wait a moment while your sensor uploads measurements.
You can see all your measurements when you go to your Profile > Sensors.
Troubleshooting
If you run into problems or have questions, check out the hackAIR FAQ – or contact us.